Digital Transformation
At Capgemini Consulting we're betting big on Digital Transformation. Kennedy Vanguard and Consultancy.nl have recently ranked us as a top firm for digital transformation, and there's the book Leading Digital by our Global Practice Leader Didier Bonnet. One of the frameworks that we've put forward is the Digital Transformation Matrix. The following chart shows the Digital Maturity of the Consumer Products and Retail subset compared to the overall Supply Chain Digital Maturity. In general, CPR isn't doing too bad, but it's not as if they are leading the pack.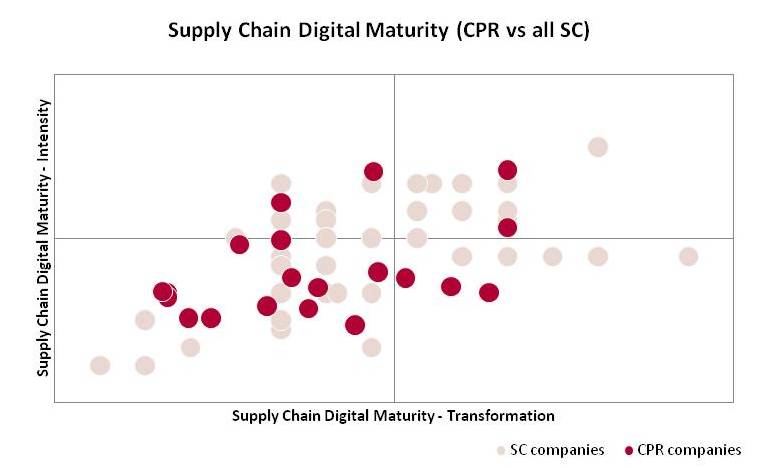 If we look a bit deeper into the underlying categories of the SCOR model that's been used to put these results together, there are some noteworthy observations:
Supply Chain Planning processes score the highest in the CPR industry in terms of Digital Maturity
This is mostly on the topics of (1) Inventory, and (2) Demand Planning
Big Data initiatives have a rather low priority
In light of recent trends and developments this is – to say the least – surprising. On Gartner's hype cycle for supply chain planning trends such as in-memory analytics, demand sensing, demand shaping, and machine learning are becoming more and more mature. This raises the question: "How mature is demand planning in the Consumer Products and Retail industry?"
Demand Planning Maturity
Using Purdue's Demand Maturity Model that has been developed together with SAS, we have made an assessment of the Demand Planning Maturity within the CPR industry. Using publicly available data in combination with our own project experience we have mapped 10 of top performing CPR companies[1] on the maturity model. Purdue's Demand Maturity Model contains over 50 descriptors that can be used to assess the level of maturity related to four categories, notably (1) process, (2) systems, (3) performance, and (4) customer.
The Y-axis shows to what extent all of the descriptors have been met; varying on a range from 0% to 100%. For example, there are four descriptors defined for the Customer category with Improving maturity. A score of 3 or 4 puts a company in the High bracket (66%-100%).
Demand forecast driving business plan.
Forecast POS/customer demand.
Integration of sales promotions, marketing activities and economic factors.
Focus on customer service levels.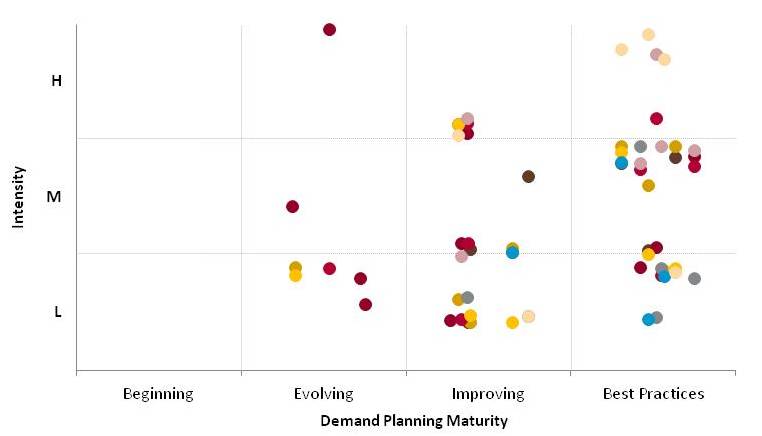 This assessment confirms that CPR companies are doing well in terms of maturity, but there's room for improvement. If the best-in-class companies are moving into deployment of best practices and most of them haven't (yet) managed to break through the High maturity threshold, it's safe to assume that an entire industry (in our data set over 2500 companies) still have a long way to go.
What's the right strategy?
Looking back at our Digital Transformation Matrix, this answers an important question. What route to take in becoming a Digirati? Theoretically, there are three:
Fashionista Route
Conservative Route
'Bold and Bodacious' Route
Obviously, the third is a daunting approach as it goes straight through the middle. Investing heavily in technology and reorganizing the organization simultaneously is only for the bold and bodacious. So that leaves two. The top performing CPR companies have already been investing in developing the required demand planning capability. These are already along the Fashionista Route. Further deployment and implementing of Digital Tools and Demand Planning capabilities is their next step in order to reach their goal of having best-practice demand planning capabilities in place.
Most of the others within the CPR industry have a difficult trade-off: invest in the capability (together with the IT to support that) or realign and digitize the organization first? Basically, there is no easy answer to this trade-off, but there's a substantial benefit that has been described in one of our recent publications How Digital Leaders Outperform Their Peers in Every Industry. At Capgemini Consulting we're more than happy to support you with making the right decision.
[1] Based on sales revenue and Return on Equity from Bloomberg GICS